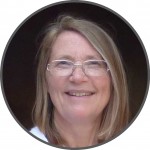 Martha is a Level 2 TAGteacher. She came to our very first TAGteach seminar in Boston in 2006 and has been applying and developing the techniques of TAGteach ever since. Martha is the author of the popular book, Chaos to Calm: Discovering solutions to the everyday problems of living with autism.
My name is Martha Gabler. My husband and I are the parents of two boys. The younger one, now 18 years old, was diagnosed at age 3 as having severe autism and being profoundly non-verbal. He had all the common difficult behaviors typical of children with autism, including self-injury and aggression.
By sheer chance, I learned about TAGteach and realized instantly that this method for positive behavior change could be a huge help for us. This turned out to be the case. My son is now a delightful, happy teen who loves life and loves going places. He still has autism, but life is much, much better for us all.
Here is a video that shows my son Doug going for a walk with his friend Anne and listening to his music. I had to teach him the skills for safe walking and sitting still to listen to music; now he can apply these and gain enjoyment from them independently.
When my son was younger, during the time I think of as the dreadful early years, his behavior consisted almost solely of running, screaming, making noises, hitting himself and sometimes others. I was desperate to do something as simple as go for a walk, go to the grocery store, or get a few hours of uninterrupted sleep. By the time Douglas was eight we were physically isolated, exhausted and frustrated. As many autism families do, we met with massive bureaucratic and financial obstacles to get the scientifically-based, professional help that we required. I realized that we were on own and it was up to me to figure out a way to help Doug.
I discovered a method called TAGteach (Teaching with Acoustical Guidance) and I have found it to be a simple, inexpensive way for us to implement proven procedures to help Douglas be calm and confident and able to engage in normal family activities.
I worked hard, did a lot of research and eventually succeeded in my goal of improving our home life, being able to go out into the community, and enjoying life as a family. I know that regardless of the challenges other parents face their child, that they can do it too, using the TAGteach tools.
Meet Martha in Verona!
Martha will be sharing her knowledge with a presentation on the empowered autism parent and will be available for questions and hands-on coaching sessions.