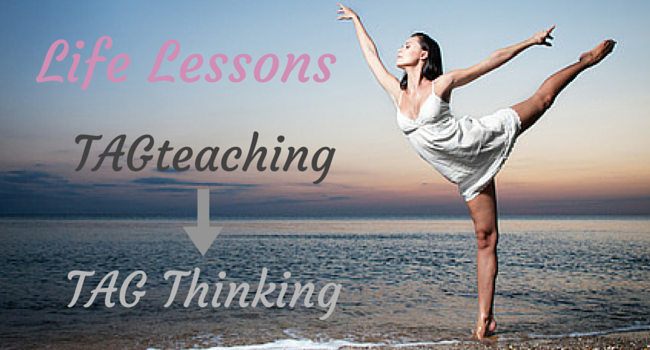 By Ann Aiko Bergeron MFA
It all began with a Border Terrier named Ninja. Then a clicker in my hand. Now it's simply a way of life. As a university professor who trains dancers, TAGteaching came as a natural progression of my obsessive interest in clicker training. At first I was hesitant to bring the techniques into a professional adult training program. Would my students think I was crazy? Would my university colleagues think I had gone off the deep end? Encouraged by Theresa McKeon, who sent me a box full of clickers after we had discussed the possibilities at a Clicker Expo, I told my classes that they were going to be my guinea pigs – that I had no idea where TAGteaching was going with them, but please humor me. Fortunately, I'm not known as the most conservative dance teacher, so they moved forward with goodwill and playful curiosity.
Laying the Foundation
Before beginning TAGteaching in the dance class, I first had to set the foundation for the work, attempting to extinguish the foundation of fear-based training, which, unfortunately, traditional dance training has been steeped in for centuries. Dance classes were (and often still are) a place where you needed to be "good" or you would generally feel humiliated (either externally or self-imposed).  Many performing artists are severe type A's. They can't tolerate the idea of not being "good enough" or "right" and spend incredible amounts of wasted energy in self-denigration and negativity.  From day one I make it very clear that "wrong" and "right" don't exist in my class – there are only focus points.